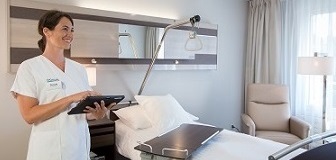 The study carried out by Pwc in 2018, in which DOSIM Healthcare participated, focuses on healthcare and more specifically, the outsourcing of an organisation's secondary or support functions.
To this end, 268 directors of Swiss healthcare service providers were asked to take part in a survey: 83 responses were received. In parallel, 30 one-to-one interviews were carried out with specialists from various fields such as psychiatry, rehabilitation, medical and social institutions, etc. Service providers specialised in outsourcing like DOSIM were also invited to take part in order to obtain an accurate analysis and a pertinent and comprehensive study.
What is the main objective of outsourcing? To enable a company to focus on the key skills of its activity, its core business.
What are the results? Clear cost savings as well as greater flexibility and improved quality of support services, all boosting the organisation's capacity to invest in its core business.
What are the main findings of the Pwc study?
The study shows that a health facility's support function costs can be objectively reduced by 5 to 10%.
Outsourcing enables processes to be optimised across the organisation.
The innovation (new techniques, products, best practices) brought to every level of the organisation by outsourcing offers new opportunities in terms of management.
A bespoke and scalable service is essential for successful outsourcing.
The most frequently outsourced support functions are cleaning and IT with other functions gradually following suit: this shows the reality of carrying out a step-by-step approach.
Finally, this choice of management helps to optimise the management of staff and equipment, thereby generating cost savings.
If you would like more information about this study, contact your DOSIM representative by consulting the map of our locations.
Return to news